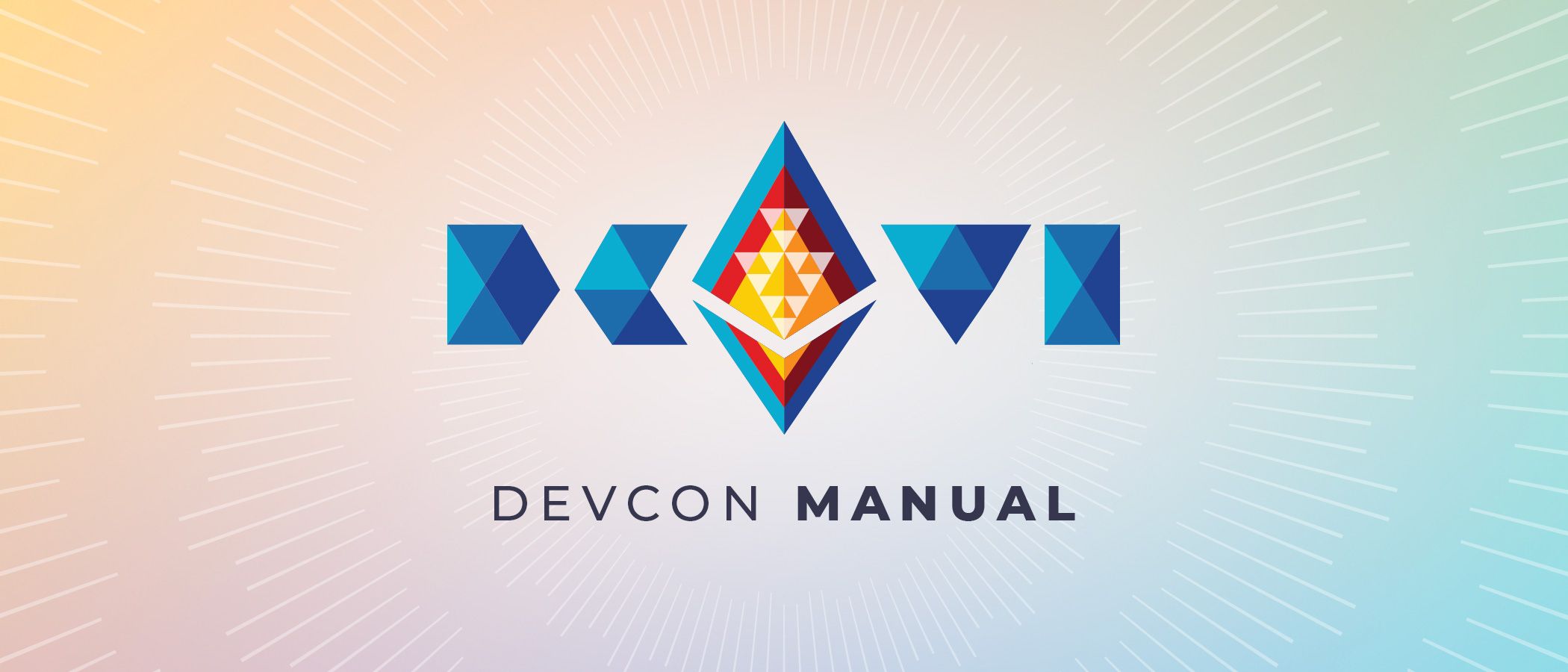 Welcome to Devcon!
This is your Devcon VI Manual, and it includes everything you need to know about Devcon, the surroundings and more. Read closely as we cover things to be aware of before departure, during transit to the venue from Bogotá's international airport El Dorado, and information related to pre-registration dates, community efforts at Devcon VI, side/after events, and more!
Bookmark this tab if you're heading to Devcon, and we can't wait to see you all soon.
I. Arriving in Bogotá 🛬
To kick things off, let's start with the first steps when arriving in Bogotá.
Covid requirements 😷
Vaccination or a negative test result is needed for entry.
Please inform yourself here, or use your home country's embassy page as requirements might change. Also, be aware that your airline or transit company might have additional requirements.
Entering the country 🇨🇴
Return flight
You'll need to show a ticket for your returning flights to enter Colombia. They sometimes ask for it, and sometimes they don't, but play it safe and book your trips accordingly.
Pro tip: Some travel sites like Priceline make it easy to book a flight and then cancel within 24 hours for a full refund, in case plans change.
Check-Mig
Between 24 hours and 1 hour before departure, you must fill out the 'Check-Mig' form, available on the Migración Colombia website. You will receive a confirmation email to present upon arrival in Colombia.
Safety 👷‍♀️
A local expression in Bogotá is: "No dar papaya" = "Don't give papaya (to thieves)". It essentially means, don't make yourself an obvious target: use common sense while in Bogotá. That means:
Look where you're going, being aware of the world around you rather than getting lost in your phone's screen.
Don't wear flashy items like expensive watches, or those gold-plated hardware wallets and loudly branded crypto-swag
Don't walk around with your phone out or with your laptop when not necessary
It's a big city, so leave those valuables (passport, excess cash/cards) at your hotel
Use Uber or DiDi, where a 20-min ride costs around $3 USD. Avoid hailing street taxis in favor of something with a reputation/rating system, an match those plates to what you see in the app, as always.
Tip: maybe pay the extra dollar for a nicer "Uber Comfort" (recommended when coming from the Airport)
Try not to walk home alone at night (Reminder: Ride Sharing is easy & cheap)
Weather ☀️
At an altitude of 2,600m, the temperature in Bogotá hovers between 9° – 18° C (or 48° – 65° F) without too much wind. However, you should not forget your jackets and raincoats, as rain showers happen!
Where to stay in Bogotá? 🏠
We have some recommendations on areas close to the venue in our Bogotá City Guide. Chapinero, Parkway / La Soledad, and La Candelaria are nice areas, but always check travel times between potential-stays and the conference center
Web3 Travel booking 🏨
If you haven't booked your stay yet, check out one of the community initiatives around Devcon: Windingtree is a platform where you can book hotels in Bogotá with stablecoins.
To get your first web3 travel experience, please read their guide or ask any question on the Windingtree Discord:discord.gg/MTYEm2BfWS.
Electricity 🔌
In Colombia, outlets and sockets are Type A (two pins) and Type B (three pins). Keep an adapter with you, if needed!
Currency exchange 💶
The currency is the Colombian Peso (COP). You can exchange cash or withdraw from ATMs at the Airport.
You can check exchange rates here.
Translation apps 📱
We recommend Spanish Dict, DeepL, or Google Translate.
II. Transit 🚙
Most attendees will be landing soon, and we want to make sure that you're able to easily navigate toward the Devcon venue.
The majority of folks will arrive at Bogotá's airport, El Dorado International Airport (BOG). From there, there are a few easy ways to reach the Agora Bogotá Convention Center, where Devcon will take place.
We recommend using Uber and ordering an "Uber Comfort" or cabify from the airport to the place where you will stay. Ubers are cheap and the safest form of transit. If you order an Uber Comfort, it will pick you up on the second floor 'Arrivals' level of the Airport, second lane, at the door you choose.
There will be a Devcon logistics team at the airport to help guide you beginning on October 8th. You will be able to recognize them by their clothing (which we will share more soon).
III. Devcon Registration 📝
a. Pre-Registration 🧾
Optionally, skip the line on Day-1 by registering beforehand, and receive your wristband, SIM card (if you need one), and POAP before things even kick-off!!
Pre-registration dates and places are:
Saturday, October 8th
— Hilton Bogotá Corferias: 12pm – 5pm
Sunday, October 9th
— Hilton Bogotá Corferias: 9am – 5pm
— Hyatt Place Bogotá: 9am – 5pm
Monday, October 10th
— Hilton Bogotá Corferias: 8am – 5pm
— Hyatt Place Bogotá: 8am – 5pm
— Schelling Point @ Gran Carpa Américas Corferias: 8:30am – 5pm
— ETHLatam @ Ágora Bogotá: 8am – 9pm
b. DOORS OPEN: On-site Registration 🥳
DOORS: October 11th @ 8:00AM**
OPENING CEREMONY: October 11th @ 9:30AM
PROGRAMMING: Each day at 10:00AM
DEVCON VENUE: Agora Bogotá Convention Center
Registration "Need to Know"
Before you arrive, you MUST redeem your code for a ticket QR and download the PDF to your device or print it in advance.
Wristbands are required for entry and must be picked up at registration. Do not lose your wristband — it will not be replaced.
Swag will be distributed inside the venue during Devcon. Paid add-on Sweatshirts can also be picked up then.
For all on-chain auction and raffle ticketeers, please ensure that you've redeemed your tickets.
c. Internet and SIM Cards 💻
We will provide free SIM cards for all attendees, first-come-first-serve! They will be valid for 15 days or 20 GB, whichever comes first.
You will receive the sim cards at registration and pre-registration.
TIP: Make sure to have some mobile data available for when arriving at the airport, to get an Uber to your accommodation. Bogotá airport wifi is free for 30 minutes.
Wi-Fi Info 📶
We will have upgraded Wi-Fi at Devcon this year! However as always, providing perfect Wi-Fi for thousands of people is tricky. Please be respectful and follow the Wi-Fi guidelines provided in the Code of Conduct.
Wi-Fi name: DevconBogota
Wi-Fi password: runafullnode
IV. Venue and Experiences 🏢
a. Welcome to the Agora Bogotá Convention Center 🙏
The Agora is a modern and fully equipped venue, just a few minutes from Bogotá's El Dorado International Airport and from the historic Santa Fe and Candelaria neighborhoods.
We have a number of unique activities and spaces for everyone to look forward to both inside and outside the main venue, including a packed schedule on stages of all sizes, a wide variety of food options, and other experiences.
Let's start with those experiences!
POAP 🏆
Snag your collectible ERC-721 token at registration to prove your attendance at Devcon!
Colombian Chiva 🚌
All the Ethereum communities in LATAM are united to share how Ethereum has been impacting communities around Latin America. The ETH LATAM and ETH Colombia communities will create a vibrant space with their Colombian "Chiva" bus. You can find the colorful truck parked in the Devcon venue, in the outside space on the 1st floor.
Music Stage 🎸 & Chiva Lounge 🪩
Next to the Chiva bus, the music stage – another community initiative – is awaiting you. There will be a program with breaks every day from 11AM to 9PM.
Find the program, introductions to all artists, and more details about the Chiva Lounge here.
During the day there will be soft jamming, sound healing, and silent DJing. In the evening after 5PM you can expect some main acts with local drinks and DJs to warm you up in the rather cool nights of Bogotá.
Art at Devcon 🎨
Rituals, shamanism, magic, and mystery are evoked in Latin America's identity. Coding, hacking, and technology at large have become tools for new generations to decode and recreate Latin America's digital narrative.
"RITUALES – Latinamerica decoded" is an NFT exhibition at Devcon that shows the work of digital & electronic Latin artists who implement blockchain to enhance the impact of their art while taking a critical vision of their context, also looking for innovative solutions to recover & re-scale our relationship with nature and the cosmos.
We invite you to visit the _Hacker Basement_ to watch the work of 13 selected artists as well as live performances and interactive installations.
Hacker Basement 🕵️‍♀️
The hacker basement will be your high-focus zone away from the busy conference happenings.
It sets the right conditions for an individual to test new dapps on their laptop, to learn, or to hack on new ideas in a group.
Everything a hacker needs will be taken care of: cozy seating, electricity, internet, and, of course, cyberpunk lighting and low-fi beats to get you in the right mood to build!
Book a meeting room 👥
Meeting rooms of various sizes will be available in the venue on conference days 2, 3, and 4. They are located on the 5th floor and will be reservable on a first-come-first-serve basis at the start of each day.
"Devcon After Dark" 🌝
For the first time in Devcon history, we are keeping the venue open late. Instead of ushering all attendees out of the building at 5PM sharp, we are leaving the venue open until 11PM to provide a space for continued collaboration, live music, game nights, a Happy Hour each day from 6-8 PM & more!
Discuss and suggest community activities on the Froum.
You can find an overview of Devcon After Dark activities here. Bear in mind that this program is still a Work-in-Progress and more items will be added over time!
This year, we want to foster collaboration, networking, exchange, creativity, creation, experimentation and relaxation through various spaces dedicated especially to that.
Community Hubs are a reserved space at the Devcon venue powered by the community for the community. By enabling a handful of communities to create, discuss and display content of their choice, we pave the way for a more decentralized Devcon.
There will be six different hubs, all focusing on important and relevant topics with their own curated program, exciting things to learn and to experience. You can find the Community Hubs area on Floor 1!
Meet this year's Community Hubs:
Crypto Economics & Governance Hub
Design Community Hub
ReGen Hub
Temporary Anonymous Zone
Women Leaders in Web3
Zero Knowledge Community
Treasure Hunt 🏆
"No Time to DAI" is a story-based treasure hunt challenge distributed through Devcon (and beyond) in Bogota. Players can engage with a browser-based mobile wallet dapp, which will keep track of all players' progress on-chain.
To play, you must find clue #0 in the devcon venue. Light role-playing is encouraged, curiosity and attention to detail is required, and some crypto knowledge is helpful.
Advanced and/or competitive players must stay ahead of the time curve in order to win. Hundreds of ETH is hidden throughout the game, right there for the taking on Görl testnet! Görli ETH required to play.
Players can ask for help/hints in the Discord: https://discord.gg/4PVZzNdsnW
Carbon Offsetting for Devcon VI 🌳
The community initiative, "Climate Friendly Devcon VI Dapp" enables you to compensate for your carbon dioxide emissions created by attending Devcon.
Upon entering a departure airport the dapp calculates your flight emissions and adds it to the estimated event emission per person. All transactions occur entirely on-chain.
You may immediately mint a special POAP for participating in the Devcon community offset.
After Devcon VI, the POAP also allows you to vote on which nature conservation project to retire carbon credits from. Could it be the Indigneous Reservation of the Matavén Forest in Colombia…?
You can offset your flight and get the POAP here!
This work has resulted from over 2 years of community discussion and implementation of DIP-17 which was based on DIP-1 and DIP-12.
For more info, see the FAQ here.
Cryptomurals 🖼
CRYPTOMURALS aims to preserve the cultural heritage of the best street art worldwide.
For the first time, CM is hosting the "street art hunt" during Devcon Bogotá in partnership with DoinGud. They are hosting graffiti tours in downtown Bogotá during the 4 days of Devcon, where people will be able to unlock the very first 3 cryptomurals that will create an NFT that will be air-dropped among the ones who accomplished the 3 spots.
People can subscribe to the Graffiti tour & join the mission to become a street art hunter through the CM website.
Ticket attestations / Minting unique NFT 🎟
This year, in collaboration with Smart Token Labs, attendees can now permissionlessly attest that they were a Devcon VI ticket-holder.
Using this attestation, third parties can offer exclusive "permissionless perks" to Devcon attendees without your wallet address being made public. You can also mint a souvenir NFT!
For more information visit the Devcon website, check out the FAQ as well as other information about Bogotá and the Devcon programming!
Impact Booths 🌤
In past years, booths have only been available to teams with large budgets that are able to pay for sponsorship packages. This year, we reserved booths for teams with high impact on the Ethereum ecosystem, regardless of their budgets.
Those teams include client teams, many groups working to improve Ethereum's infrastructure, public goods efforts, rollup projects, and selected other high-impact projects.
You will find the Impact Booths in the lobby on the 3rd floor.
Public Good Supporters 🌻
We introduced the Devcon Supporter Program in lieu of traditional sponsorships, and those teams who participated deserve special thanks for their contributions to the ETHColombia Quadratic Funding Round @ Devcon, to Gitcoin, CLR.Fund's open grants, and to the Protocol Guild (which supported core Ethereum research and development). EF will be participating in this effort too!
Our team owes a big THANK YOU to those teams and DAOs that joined our first-ever Supporter Program this year without most benefits expected by sponsors. Their support of the Ethereum ecosystem came without things like reserved seating, most branding, speaker slots, named event areas and other traditional sponsor-like benefits.
Food 🥗
Expect the food to be a mix of very local traditional Colombian food, and international food.
We will try to always have vegetarian, vegan, and gluten-free food, although sadly cannot accommodate all dietary restrictions.
V. Program & Agenda 📆
a. Devcon Web Update & Passport App Launch
For Devcon Bogota Event days http://devcon.org website gets a complete re-lift to add information related to all things Devcon experience. In addition the Devcon Passport PWA (Progressive Web App) goes live at app.devcon.org. Be sure to install the PWA on your phone and create an account to make sure you have the most up to date information and a custom agenda that you can share with your friends and colleagues.
The passport can be signed in via email or you can simply Sign in with your web3 wallet. Add your favorite speakers to your list to see all the sessions they are doing easily or simply filter based on your needs, and interests. Find all the information related to the venue map, where to find specific rooms and activations and much more.
b. Web3 video archive and event agenda by Swarm network and Etherna
Web3 Devcon Agenda
Here you can find a web3 version of the Devcon Agenda hosted on the Swarm network, a decentralized data storage and distribution technology.
Web3 video hosting
The Devcon video archive will be available on Etherna, a web3 decentralized video platform using the Swarm network as storage, in addition to the current video hosting offerings.
c. Can't find a room?
If you need a hand with finding a room (or anything else at Devcon), you can always ask our volunteers (you will recognize them by their shirts).
d. Devcon Week
Don't forget that Devcon is more than a 4-day conference, but a whole Devcon Week! Featuring the ETH Bogotá hackathon, the DAOist, Schellingpoint and more.
VI. Explore Bogotá 🌆
Good news! Our team has put together a City Guide on a lot of the must-know details for getting around bogota. Check it out here
The guide covers everything from ways to get around, to safety, areas that you'll want to see and/or stay around. See an included FAQ on vaccinations, food, language and more!
Devcon Side Events 👯
You can expect many community events, meetups, and social gatherings to be happening around Devcon. A big thanks to the amazing community for putting so much dedicated work into organizing side events! Check out the Colombia Blockchain Week schedule for a schedule!
Co-Work Space After Devcon 💻
In need of a place to catch up on work after the rush of all four conference days?
The venue will be open for co-working on Saturday the 15th and Sunday the 16th October.
Entry is FREE for all who have a Devcon ticket, with snacks and space for collaboration available.
ETH Medellin & ETH Panama ♦️
A bus-ride or short flight away lies Medellin, Bogotá's warmer and more touristic neighbor. A great excuse to extend your trip or travel is to unite with the Ethereum Medellin community for a week of open co-working, evening events, and various conferences.
ETHMedellin 🇨🇴 — Oct 18-22
Just one week after ETHMedellin and a cheap one-hour flight, ETHPanama will be taking place in tropical Panama City. Join for some continued learning, exposure to the Panamanian Ethereum community, and there just might be a group surf trip afterwards for the more adventurous of the group!
ETHPanama 🇵🇦 — Oct 26-28
VII. Other things to know
Safety first! 🛟
Emergency numbers
National emergency number (24-hour general line): Tel: 123
Metropolitan Police: Tel: 112
We will have medical staff at the venue on-site in case of emergencies.
You can also contact emergency@devcon.org.
Code of Conduct 👔
Please remember to abide by the Code of Conduct, which is available here.
For any questions regarding the Code of Conduct, or to make a report/file a complaint, contact a staff member or a volunteer.
Stay up to date with the latest news! 🗞
Follow Deva on Twitter: https://twitter.com/efdevcon
Join our official Telegram community for questions and side events.
That's it! Remember to bookmark this page for quick access to all things Devcon, and welcome to Bogotá!
—
EF Devcon team 🦄